Do you have a place you go when you need a mini get-away? Some women go shoe shopping, me, I go the RE-Store. I'm lucky enough to live about a mile from one!
This RE-Store is a little different from the other ones I've been too because they accept furniture in addition to building materials. The front of the store is a furniture thrift store!!! The back warehouse and lot are dedicated to donated building materials.
Last Tuesday I wandered in to purchase a toilet paper roll holder center (for $.25!) I've also purchased blinds, furniture, wood scraps, tools and all sorts of other things there. In addition to the TP holder I also found one of these for $5.00. Anyone know what it is? We'll I'll tell you that their normal price is $23 and it is going to come in very handy for an upcoming project!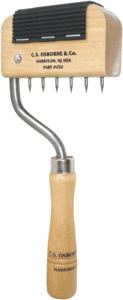 I am currently FULL on furniture, so until a piece or two sells I'm not buying anything, but I thought I'd snap a few shots on my phone of awesome finds on my last trip.
Check out this couch! I'm guessing it MUST have spent most of its life under plastic in a grandma's parlor. It was in incredible condition.
Here's a close up of the embroidery. Can you imagine a room designed around this sofa? And guess what they wanted for it? $200. Yep. I hope it finds a nice, *childless* home.
For those hard core vintage lovers out there- This one is beyond my ability to truly love, but it could be quite the conversation piece in the right room.
I ran over to this pair of lamps when I saw them. Aren't they beautiful. They are the real thing, however, someone at the RE-Store knew that too. They had a $225 price tag for the pair on them. Too rich for my pocket book, but I enjoyed looking at them.
The cabinet under them is quite lovely too.
This lamp was solid wood and I though it would be awesome painted chartreuse! It was $12.
There is also a room, a good sized room, full of hard wired lighting fixtures. There is always something interesting in there. I saw this one and knew that Mandi @
Vintage Revivals
could have made this baby sing. (Living in a rental kind of limits my over head lighting options. Boo!)
Well, what do you think? Am I crazy for going to the RE-Store just for the FUN of it? Where do you love to go browse for fun things?