I have had several people ask me which diffuser I use. You would think this would be a pretty straight forward answer, but it turns out, not so much.
****UPDATE*****
I bought a
ZAQ Dew LiteMist
I have owned it for several months now, it has traveled all over the western US with me and isn't bothered by being moved around. I also love that a very tiny amount of water remains in the bottom of it, as opposed to my SpaVapor which left quite a bit (enough to make a mess if a kid tipped it over.)
I highly recommend this diffuser if you don't have need for it to run for longer than 4 hours without refilling it.
__________
My first diffuser was a
SpaVapor ultrasonic diffuser.
It is $31.99 on Amazon.
Here's the thing, and you'll see this in the reviews. It's not a super high quality product. I've had mine for about 7 months. I run it a lot. It is starting to produce less mist, and I'm fairly sure it will not make it to the year mark. ***update - it died at the 9 month mark****
Now, I don't regret buying it. It is economical, unobtrusive, quiet, and has done what we needed it to do, plus Leo LOVES to turn on the LED colored lights. It was a good place for us to start, but if you have it in your budget, you may want consider a better diffuser.
There are two types of diffusers - ultrasonic and nebulizing. doTERRA sells two ultrasonic diffusers and one nebulizing diffuser.
Ultrasonic diffusers work by use of small plates in the diffuser that vibrate at a very high speed within a reservoir of water with a few drops of essential oils in it. That vibration creates a cool mist that contains tiny particles of oil that are diffused into the air. They use very little oil, are economical to run, and are very quiet. The
Lotus
and the AromaLite (both sold by doTERRA) are both ultrasonic diffusers.
I like having the humidity added to the room I am in. I also like that ultrasonic diffusers are quiet and easy to clean. Right now I am leaning toward the AromaLite because it is small and unobtrusive. It's hard to tell from the two photos, but the Lotus is much bigger.
****update - my mom and a good friend have both purchased the AromaLite. It is a good diffuser, and great if you want it to run for 8 hours at a time. It has a 4 hour setting where it runs continuously, or an 8 hour setting where it runs for 15 min on and 15 min off for 8 hours.
________
Nebulizing diffusers work by means of a jet of air blown over a tube with oil in it. These also create a fine mist, however, the mist is made up only of tiny oil particles. This is why they are usually considered more therapeutic. They can fill a room with a high concentration of oil particles very quickly. However, they can be noisy, are not ascetically pleasing, use more oil and so are not as economical to run and are purportedly hard to clean. (Keep in mind, I do not own one, this is what I've gleaned from reading FAR too much on the topic.) If we had a strong therapeutic need for one, I would absolutely put up with those drawback, but because I know an ultrasonic diffuser has met our needs, I am strongly leaning in that direction.
The AromaAce is the nebulizing diffuser that doTERRA offers. I will say that people who own them tend to like them. The only complaint I've heard is that if you aren't careful with your settings you can go through an entire bottle of oil in a few days. It also comes with a bottle of On Guard.
There are other diffusers besides the ones that doTERRA offers that I think are worth looking at, as well.
The
Jasmine Diffuser
is adorable, comes in several colors, and people seem to like it for small rooms. It is $59.95 on Amazon. It seems to be more dependable than the SpaVapor. It also has a timer function on it, and runs longer than the SpaVapor.
There are 4 or 5 others on Amazon (just search essential oil diffuser) - which seem comparable to the SpaVapor or the Jasmine.
Lastly, because they are beautiful, and I am so very tempted to put up with cleaning it because of how beautiful they are. . .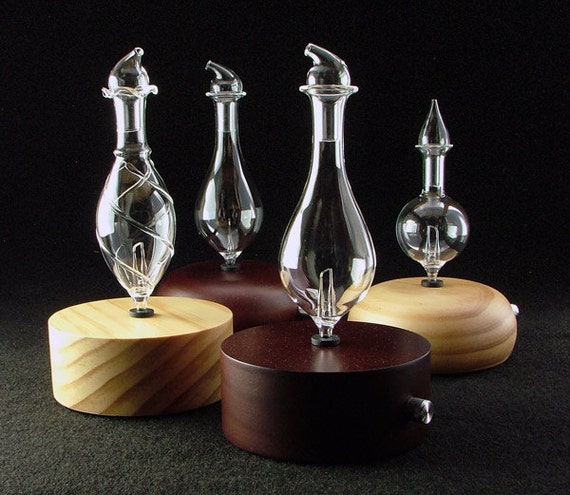 This is a nebulizing diffuser sold in an Etsy shop by a company called
ArOmis
. They are $89.99 without a timer and $99.99 with a timer.
So, that is my long answer. On day I will treat myself to the glass and wood diffuser in the future when I'm not chasing wild little boys all over and wouldn't worry as much about it getting broken.
_______________________
If you are interested in one of the diffusers offered by doTERRA and want to know more about retail vs wholesale pricing, please email me at wrightessentials@gmail.com.